You have done everything right to ensure a smooth business process, yet something seems off and you are unable to get the desired outcomes. What is hindering your business process? You need to dig in a little deeper to find out. A business process is more than just documentation. You need a well-crafted process and a plan that actually functions to get things going.
Without proper guidance and a decent strategy, your business process will never become efficient. Each business has different goals and aims, it is quite important to improve the efficiency of your business in order to achieve all your end goals. As a business owner, you need to carefully and continuously evaluate and improve the business process. Only this way you can guarantee the success of your business.
7 Ways to Improve your Business Process
Business processes can be internal as well as external. If you are hiring new employees, that's an internal business process. Whereas, shipping your products to the customers is an external process. Nevertheless, you need a properly documented business process for all the steps, be it external or internal. Listed below are the 7 ways to ensure your business process is efficient enough to lead you to favorable outcomes.
1.      Evaluate Your Current Business Process
The first thing you need to do is to evaluate your existing system of business processes and identify what is working for your business and what's not generating positive results for you. Collect data and information about where things have gone wrong. Also, find out how things became flawed in the first place. Check if your employees were following the business process or not.
2.      Design an Ideal Business Process
You have evaluated your business process and identified the errors in your existing system. You can now start working on it to make improvements and changes or you can build a new business process from scratch. An ideal business process can include new strategies, new software, and even onboarding new employees or project managers. You can also develop fresh approaches to your current routines with the help of creative planning.
3.      Set Your Business Goals, Aims, & Objectives
Things get much easier and simpler after you evaluate your existing business process. Once you have a business process in hand that you have improved, the next thing to consider is laying out all the goals that you wish to achieve and all the other aims and objectives you have in mind. It is no hidden truth that your business process should align with your business goals, otherwise, what's the use of the process?
The goals you set will help you to effectively improve the business process. Moreover, after you have all the goals set in one place, you will have to work on the Key Performance Indicators (KPIs) that will help you achieve your desired goals. For example, if your business claims to provide the best UK essay writing service, plan your goals, the subjects you will provide the services for, how many writers you will need, the number of clients you aim to get in a year, etc.
4.      Motivate Your Team for Success & Discuss the Process with them
You and the team must be on the same page to ensure your business process runs smoothly. In the words of a layman, you can improve the proficiency of the business process only when you and your employees have the same goals and take actions accordingly. It is important that your team knows and fully understands the business process. Once your business process has been evaluated or redesigned, ensure the whole team follows it. In addition to that, always be open to their ideas, if anybody wants to share an idea or a strategy to improve the business process, make sure to listen to them.
5.      Use Automation for Specific Tasks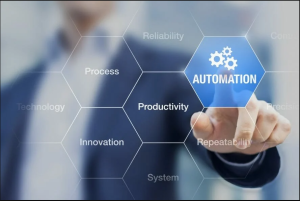 Many businesses tend to ignore automation. Yet, automation is a vital factor to ensure the efficiency of a business process. Automation is the best way that opens many opportunities for optimizing and speeding up a business process. Besides, automation proves to be budget-friendly for you in many cases and you don't even have to hire new employees to complete simple tasks that could easily be done with the help of automation software. Every company regardless of the industry has several repeated and recurring tasks and you can use automation to get them done on time and smoothen the business process. If you provide academic writing services, you can take the help of various authentic AI-generated grammar checkers, text editors, and plagiarism checkers to ensure the originality of the content.
6.      Implement the Newly Designed Process
Incorporating your new business process is easier said than done. If all you have done is pass over the process documentation to the team, we hate to break it out to you, but you have done it all wrong. To minimize the chances of your business process failure, you have to do much more. First of all, you have to gather the team and stakeholders and give them a solid reason as to why you have made amendments to the existing process or why you had to redesign it all over again. Then, you'll have to implement the process gradually in multiple stages so that people can fully understand, adjust, and adapt to it.
7.      Review Your Business Process
Optimizing your business process is a gradual process and takes time. It is not something that can be achieved within a day or overnight. For this reason, you need to constantly review the business process you have evaluated or redesigned in order to ensure its effective working. Moreover, keep in check that all the guidelines have been implemented, whether or not the team is following the process, etc.
To Sum Up
An effective and proficient business process is the key to the success of your business and organization. Aligning your business process with the goals of your business and organization is what supports your business growth in general. A sound business process results in business proficiency which ultimately pays off in the long run.