The Maheshwari sari – with its lush fabric is one of the greatest revival stories of Indian handlooms. Famous for having 'coolness of cotton & lustre of silk', as it has silk in the warp and cotton in the weft,  it is one of the youngest weaves of India.
 The story of the Maheshwari sari
 The story of the Maheshwari sari is related to an empire. The 18th century India, was dominated by the two great personalities who would shape history, Peshwa Bajirao I who expanded the Maratha empire upto Delhi and the benevolent Queen, Ahilyabai Holkar, who made Maheshwar, her capital, inviting weavers not only to weave the traditional Maratha nine yard saree, but to ensure the prosperity of the empire.
Ahilyabai went on to rule as one of the most benevolent queens of India. We spoke to Sugandha Johar , a research scholar and a foremost expert on Maheshwar. 
The Maheshwari textile was entirely Ahiyabai's creation. She brought in weavers from Mandu, gave them incentives, appointed special officers so that they could get a steady supply of cotton and silk, and encouraged experimentation. The most famous variety of the Maheshwari was the famous 'Garbha reshmi  sari' ,a combination of silk saree with cotton blend, woven in a special weave,  in such a way that it had a beautiful lustre on it, which made it highly desirable among the Maratha women. Additionally, these traditional nauvari saris, with traditional Maharashtrian borders  , would become famous as Maheshwari saris.
After Ahilyabai's death in 1795, Maheshwar went into decline. Also, the Holkar capital was first shifted to Bhanpura and then finally to Indore in 1818. It is Indore which is famous today as Ahilyabai's city rather than Maheshwar. Onto the 21st century, while Indore became one of the largest commercial hubs in Central India, Maheshwar continued to be a small village, that had once seen glory days.
The Lost Art Revived
With Maheshwari, textiles too went into a decline. Moreover, the biggest patrons of the Maheshwari saris were the royal and noble families from India. After independence, the patronage died out and the weavers fell on hard times. With lack of patronage, the quality of the saris too dropped drastically. Large number of weavers from Maheshwar migrated to places like Bhiwandi near Mumbai, where there were powerlooms.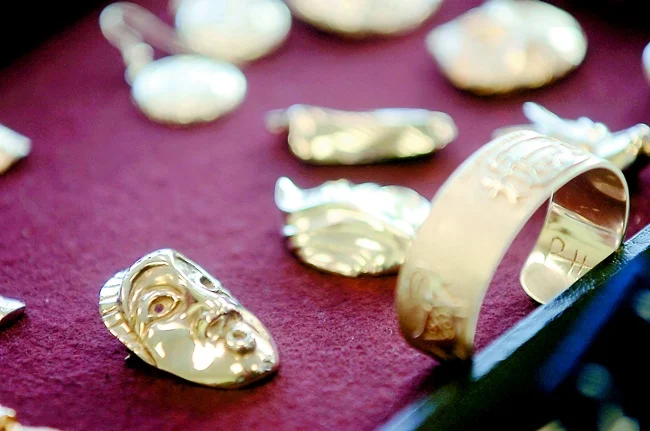 Richard Holkar, a descendant of Ahilyabai, speaks about those early days and the beginnings of the Rehwa society.The Holkars were keen on getting the women, who were used to weaving at their homes, to weave at a common place at the fort. This was to ensure quality control. However, after much reluctance, Rehwa began with 8 women weavers.  Therefore, the Holkars were very keen on making Maheshwari, from a traditional Maharashtrian weave into a fashion statement. But they faced challenges. Adapting to the changing fashions and new designs was not easy. If you have a particular set-up on a loom to change it takes upto 3-4 days. A cloth woven on a particular day is equal to that much worth of earnings. Weavers were reluctant to change.
Art of Maheshwari
From a community of 250 weavers in which the art of Maheshwari was declining, today there are more than 2000 weavers and Maheshwari as a brand is known at a national level. What makes Maheshwari so popular as a sari is that it is the right kind of weaving, you can make a really expensive looking sari which doesn't cost as much.
With weaving providing income to more than 2000 families, Maheshwar is seeing increasing prosperity. Weavers are using instagram to sell their products. 
 Today, Ahilyabai Holkar's statues dot almost every town in India. There are airports, universities and public institutions named after her. 
Also Read: http://newsethnic.com/celebrate-your-mother-and-child-bond-with-mothers-day-gifts/